A Homeplace Vision franchise provides the best opportunity to start fast, grow quickly and maximize revenues and profits!
Hear First Hand From One of Our Operators!
Two Brands for the Price of One Means Maximum Revenues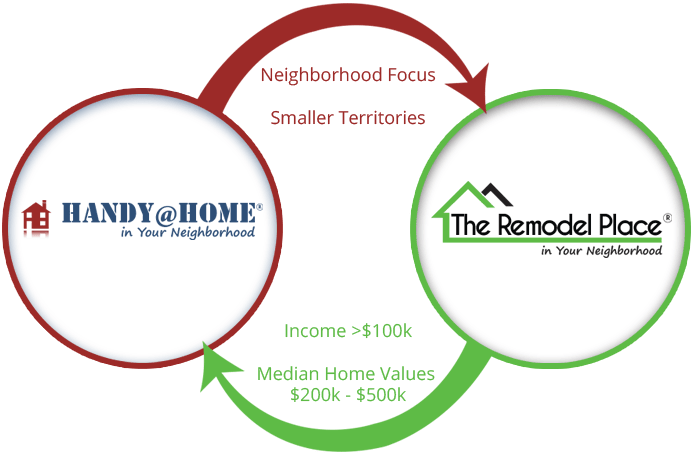 As you can see depicted in the graphic our model is an open system where two branded disciplines support each other yet thrive in an environment where common characteristics are shared.
In both cases, you leverage your business management, sales skills and neighborhood marketing efforts and are supported by our team of experts to deliver the highest quality service to the customer. You can start by offering the customers in your territory smaller home repair, handyman, or minor renovations. In this case, we help you hire your first handyman, outfit them, train them, complete jobs, bill and collect. This works well for some operators but it doesn't create the opportunity for larger revenues that come from larger jobs. Plus, as we've discovered, it takes a very large number of small jobs to accumulate the kind of income that new franchise owners require to replace previous income and payback franchise investment. Our experience substantiates that the best approach with the greatest upside and the least downside and effort is for you to move quickly into the blended model where both brands are promoted in your target neighborhoods. This lets you take on larger revenue jobs under The Remodel Place® brand while filling in the off hours with handyman jobs as Handy@Home®.
© 2020 HomePlace Vision. ALL RIGHTS RESERVED. Use of this site is subject to certain Terms of Use (Printable), which constitute a legal agreement between you and HomePlace Vision.
Designed by Maksan Solutions