As you can see depicted in the graphic below our model is an open system where two branded disciplines support each other yet thrive in an environment where common characteristics are shared.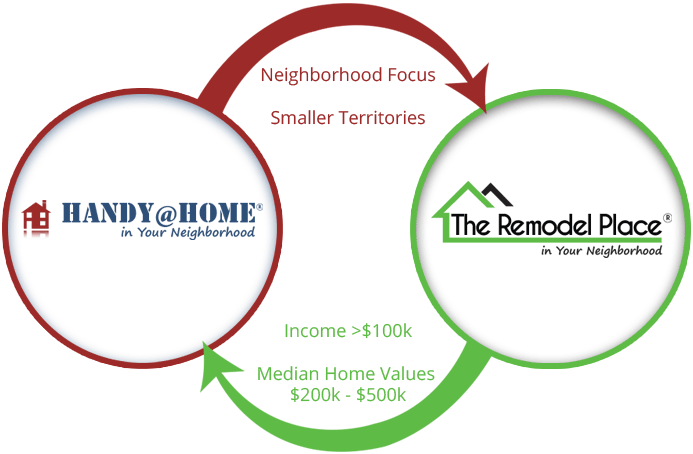 In both cases, you leverage your business management, sales skills and neighborhood marketing efforts and are supported by our team of experts to deliver the highest quality service to the customer. You can start by offering the customers in your territory smaller home repair, handyman, or minor renovations. In this case, we help you hire your first handyman, outfit them, train them, complete jobs, bill and collect. This works well for some operators but it doesn't create the opportunity for larger revenues that come from larger jobs. Plus, as we've discovered, it takes a very large number of small jobs to accumulate the kind of income that new franchise owners require to replace previous income and payback franchise investment.

Our experience substantiates that the best approach with the greatest upside and the least downside and effort is for you to move quickly into the blended model where both brands are promoted in your target neighborhoods. This lets you take on larger revenue jobs under The Remodel Place® brand while filling in the off hours with handyman jobs as Handy@Home®. As you can see, in the actual weekly schedule above this operator earned $21,700 and only had to manage a maximum of 12 jobs…………….all in the same focused territory!
If you follow other models where you get all tied up performing thousands of small tasks for customers in a wide geography you're going to either burn out and quit or fail outright and potentially lose your investment!
We'll teach you how to find the jobs (with our help in determining need, a design outcome, the job's duration and cost), we help you put together the proposal and then actually present it with you. You follow up with the customer and win the jobs! These activities are conducted under The Remodel Place® brand. While you're learning the model and how to close deals, we'll designate your remodeling crew and get them ready to provide low cost, high quality fixed price service to you in support of your customer.
Once you're ready the Fast Start Program can be implemented in around 2 business days with the outcome being more revenue, less risk, fewer miles driven and far less headaches that come from managing literally thousands of small low revenue jobs per year!
Another important part of our program is that you can start the program either full-time or part-time. We operated it part-time for 10 years! It was a great additional source of income that was there when we needed it WITHOUT LOSING THE PERCEIVED COMFORT OF A STEADY PAYCHECK! Yet when corporate America gave up on us we were prepared and not only didn't skip a beat, but materially increased our standard of living and secured our independence!